TEXT / PIX: Frontier Hotel, Million Dollar Hotel, Rosslyn Hotel, 5th & Main, 5th and Main, Downtown Los Angeles, L. A. Louis James Louis Cook James monsanto7@msn.com
MyDowntownL.A.
TEXT / PIX: Frontier Hotel, Million Dollar Hotel, Rosslyn Hotel, 5th & Main, 5th and Main, Downtown Los Angeles, L. A. Louis James Louis Cook James monsanto7@msn.com http://www.youtube.com/watch?v=IlITAknFAzs
Sunday, July 25, 2004 After making your selection, copy and paste the embed code above. The code changes based on your selection.
The Most Famous Hotel You'll Never Step Foot Inside One of the great ironies about L.A.: Because of all the film, TV and commercial shoots downtown, many of those old, dilapidated but wonderful old buildings -- most of which lost their lustre years ago -- nonetheless clock a ton of screen time.
Some of those buildings, of course, are now being reborn as fancy lofts. But most of the Historic Core is still a shadow of its bustling old self. I'm particularly fascinated by the area's once-grand hotels, such as the Alexandria, that one time housed diginitaries and now live on as flop houses.
Then there's the Hotel Rosslyn.
You've seen it dozens, maybe even hundreds of times, on TV or at the movies. Most recently, the Hotel Rosslyn serves as a backdrop for the music video to Hoobastank's "The Reason." The Rosslyn can also be seen in a recent Dr. Pepper ad, promoting the soda's tie in with "Spider-Man 2." You'll regularly see the Rosslyn in the background in shows and movies supposedly set in New York. But don't be fooled by its noteriety, or the ease in which it appears on TV. This is still a sad place, where drug deals are common and tenants are regularly forced to leave.
The Hotel Rosslyn, located at the corner of 5th and Main, opened in 1914 as a lavish, Beaux Arts-style 264-room hotel. It later spawned a sequel, in 1923, when the owners constructed a 422-room hotel across the street. The two hotels were connected by an underground tunnel. Large signs adorned both roofs -- the original simply announcing the "Rosslyn Hotel," while the other referring to itself as the "New Million Dollar Hotel Rosslyn."
But like much of downtown, the Rosslyn and its annex fell onto hard times by the mid-century. The annex is now called the Frontier Hotel; both are pay-by-the-week transient hotels.
Yet they're still famous. Downtown's hotels serve as the perfect backdrop for Hollywood's tales of innocence lost and various human tragedies.
U2's Bono became fascinated by the place when he and the band filmed their infamous rooftop video to "Where The Streets Have No Name" close by. They even shot this promotional pic on the roof:
Bono pitched the story that would later become Wim Wenders' film "Million Dollar Hotel." (Starring Jeremy Davies, Milla Jovovich, Mel Gibson and Jimmy Smits, "starts when a billionaire's son dies in a skid row hotel and a federal agent turns the lives of the miscreant residents upside down to find out if it was suicide or murder," according to IMDB.com.
According to a story on the International Cinematographers website, Wenders decided to shoot all of the movie at the Hotel Rosslyn/Frontier, even though it would have been easier to do elsewhere.
And it sounds like it wasn't easy: Since this was a $55-a-week hotel - a place with junkies, lunatics and people throwing needles off roofs - we were all wearing helmets since bags of urine could come flying down.
The lustre may be long gone... but at least one piece of the Rosslyn's past still survives: After at least half a century, the gigantic "Million Dollar Hotel" sign now shines once again, having been recently restored. posted by Mike| 2:26 AM|>>>>>>>>Comments (6) Mike
http://www.youtube.com/watch?v=fLMmn_sRfyQ Blog entries like this are why I come to your website everyday! I'm glad other people out there have an appreciation for L.A.'s past like me.
Keep it up! Monday, July 26, 2004, 6:11:39 PM – Flag – Reply – Delete – Edit – Moderate ich heisse kathie reading this made me want to pay a visit to downtown L.A. that is, until i read the part about needles and urine being thrown out the windows. don't get me wrong, i'm still fascinated. but thanks for the warning to a naive reader like me! Tuesday, July 27, 2004, 4:13:30 AM – Flag – Reply – Delete – Edit – Moderate MILLION DOLLAR HOTEL Izzy (short for Israel) Goldkiss is dead. Having fallen (?) from the roof of the seedy Million Dollar Hotel in Los Angeles, his media baron father (Richard Edson) is convinced Izzy was murdered. He calls on FBI special agent Skinner (Mel Gibson) to investigate. In the hotel, Skinner finds a collection of misfits and outcasts who've been failed by the mental health system. They include Geronimo (Jimmy Smits), Dixie (Peter Stormare) who believes he's the fifth Beatle, Vivian (Amanda Plummer), and Tom-Tom (Jeremy Davies) who was Izzy's best friend. But Tom-Tom's main aim is not to help Skinner out, but to meet the beautiful Eloise (Milla Jovovich). "Anyone with the natural filmmaking talent of Wim Wenders deserves to be taken seriously, even when they are straining their talents beyond the limit. In The Million Dollar Hotel, Wenders has a script (by Nicholas Klein) that is incredibly challenging to pull off successfully. It has defied Wenders' effort, although there are some terrific cinematic achievements buried within the film. Whether the self mocking tone is evident in the script or not, it should have been avoided, since it collides with the setting in which the characters are all unhinged in some way. The two elements cancel each other out, leaving us with often boring passages. The studied craziness permeates the film and turns on Wenders' intentions: there is none of the ethereal quality so desperately needed to make this film move us or prod us into some reaction. Instead, we shrug our shoulders in an act of disconnection. Numerous little misjudgements add up to one big one. For instance, Mel Gibson's character, Skinner, has the potential to be a strong metaphorical figure (once a physical freak now wielding power over other, mental freaks): but the portrayal is one dimensional and incomplete to be really effective. Some of the irritants are evidence of lack of discipline. The extended scenes of Jeremy Davies acting the 'stupid' of his character, for instance, are wearying and become self indulgent for both actor and director. Also overdone are some overtly 'clever' image making, like a trumpet-playing resident in a candle lit window scene. (To make it worse, the trumpet playing is too good to belong in this fleapit.) But gripes aside, the film creates a sense of place and time superbly, and the cast perform death defyingly for Wenders, in pursuit of his vision. And it does have some novelty value."Andrew L. Urban"Wim Wenders' musical inclinations take a different turning in this collaboration with Bono, whose music is as complex as the characters that inhabit the Million Dollar Hotel. This is a murder mystery with a difference – everyone is eccentric, simple and positively weird. But we never laugh at the characters, we inhabit their world and get a glimpse of a poignant, tragic place where life is like an emotional earthquake. Wenders has embraced an extraordinary topic and fleshed it out both cinematically and viscerally, enticing us into this contradictory home of madness. The script has fleshed out wonderful bizarre characters; each is fascinating in its own way. Detective Skinner is obsessive, unorthodox and manic; Eloise is an angelic whore; Tom Tom is sweet, stupid and so sensitive; Dixie, the whimpering rejected Beatle is stuck in a time warp; Geronimo is larger than life….. The assembled cast is nothing short of extraordinary. Jeremy Davies is riveting as Tom Tom, a Simple Simon whose hair is like a scrubbing brush that has just worked over a kitchen full of pots and pans. He creates a character so complex, so tragic, so believable, that we feel every hurt for him. His whingeing eventually becomes rather monotonous, but perhaps that's the point – we get driven to the edge, like the characters. Everyone is terrific and Gibson is well cast here, but wait until you see Gloria Stuart! From Titanic's regal dame, she has become a lovable old street-wise biddy with a rough spiked tongue spiked! There are plenty of witty throwaway lines, and we dip in and out of tragedy and humour simultaneously with skill and subtlety. Yes, it feels a little long, and is self indulgent in parts, but the overall imposing mood remains with us, the dark production design invading our comfort zone, leaving us unsettled. As the tensions escalate, so too does the soundtrack, a fluctuating and fervent musical journey from U2. You may never want to check in, but you will never forget the people you meet. Gripping and intriguing, Million Dollar Hotel is an edgy mood film that haunts, disturbs and entertains. "Louise Keller"After Buena Vista Social Club, Wim Wenders returns to feature filmmaking with The Million Dollar Hotel. He also returns to the Los Angeles he used so effectively in The End of Violence. This film examines the nature of celebrity in an age where television can make someone famous (or infamous) in the twinkling of an eye. It also looks at issues of friendship and loyalty. Unfortunately, these themes are caught up in a rather muddled narrative; which buries them under an avalanche of bizarre characters and plot lines that lead nowhere. By populating the eponymous hotel with outlandish residents, key elements of the story founder on the very eccentricities that make the characters interesting. In the end, the murder mystery lacks the intrigue necessary to sustain it. Despite the plot problems, the film does have a lot going for it - fine performances, marvellous cinematography, a great soundtrack, an incredibly sexy "non-sex" scene, and one of the most spectacular opening sequences of the year. Jeremy Davies and Milla Jovovich in the central roles bring an offbeat energy to their onscreen relationship. Jovovich is particularly touching in the second half of the film as the romance blossoms. Mel Gibson turns in a strong performance as Skinner, a man who's strong on the outside but broken inside. Amanda Plummer, Jimmy Smits and especially Peter Stormare lend solid support; with Stormare getting some of the film's best lines. The Million Dollar Hotel promises much and does deliver to an extent. However, its shortcomings mean it never becomes more than the sum of its, at times disparate, parts. "David Edwards
Jessica
Un suicidio (o un delitto?) ha avuto luogo al Million Dollar Hotel, residenza dei disperati di Los Angeles. Sul fatto indaga il bizzarro agente Skinner. L'indagine si mescola con la vita dei personaggi che popolano l'albergo, come il ritardato Tom Tom e la ragazza di cui è innamorato. Da un soggetto del cantante degli U2 Bono, il ritorno alla fiction del regista tedesco Wim Wenders dopo il grande successo del documentario Buena Vista Social Club.[ad#dentropost]Diretta Live Streaming (Gratis) del Film: The Million Dollar Hotel Bono and the MDH Band - Never Let Me Go Lyrics
Send "Never Let Me Go" Ringtone to Your Cell
Wow. After I jumped, it ocurred to me. Life is perfect. Life is the best, full of magic, beauty, opportunity, and television. And surprises...lot's of surprises, yeah. And then there's the best stuff, of course. Better than anything anyone ever made up, 'cause it's real.
You take a stranger by the handA man who doesn't understandHis wildest dreams
You walk across the dirty sandAnd offer him an oceanOf what he's never seen
Maybe I was blindOr I, I might have closed my eyesMaybe I was dumbBut what I forgot to sayIf you didn't knowIs never let me go
Never let me goNever let me goNever let me go
You run from love and don't believeUnless it catches you by the heelThat even then, you struggle
From red I learned to cross the strandYour footprints still there in the sandEverything else, washed away
I may not be aloneOh I, I may have found my homeI may have lost my wayBut what I forgot to sayIf you didn't knoTEXT: Frontier Hotel, Million Dollar Hotel, Rosslyn Hotel, 5th & Main, 5th and Main, Downtown Los Angeles, L. A. Louis James Louis Cook James monsanto7@msn.com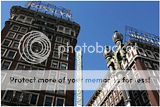 wIs never let me go
Never let me goNever let me go
Recently remastered by Rich Chycki, this was recorded for the original sessions for the album 'Rush' back in 1974, but apparently was placed in the vault. It recently made an appearance on the ga...
It recently made an appearance on the game Rock Band, and is now available on iTunes.
Category: Music
Tags:
rush geddy lee alex lifeson neil peart working man